'Well I'll be honest I don't like the sea, I could never have made a sailor, the way I look at it the sea can be very cruel you know, so I said its got to be the army, so I joined the army.' (Tape 1, P.8).
In August 1944 Ron joined the army and was based at Canterbury. On completion of training, Ron served with the Royal Army Service Corps.
'When you go in your not attached to any regiment, until you finish your training and then I looked up and saw I was attached to the Royal Army Service Corps. There were more soldiers killed in the Royal Army Service Corps than any other regiment. The Royal Army Service Corps delivered all food and ammunition up to the front line, they looked after all the transport, they delivered all the petrol to the royal tanks, so in other words they were the mother regiment supplying all the other regiments with what they needed.' (Tape 2, P.3).
It was a service without which 'the men serving guns, fighting tanks, laying minefields, maintaining communications or patrolling against the enemy could not do their duty'[2].
'That was one thing, being in that regiment we had everything, we had all the food, we never went without, compared with the others as they had to wait for us.' (Tape 2, P.3).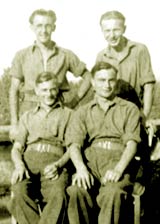 Ron with friends (back left).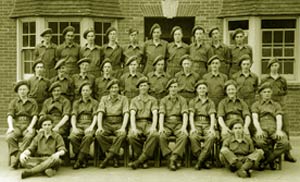 Ron middle row, third from right. Click to view.
Completion of army training at Canterbury
Whilst in the Royal Army Service Corps Ron served in Holland towards the end of the war, as part of the requirements of the 21st Army Group, under the command of Montgomery (British Field-Marshal). The 6th June 1944 saw the start of eleven months of fighting in North-West Europe and 'the final act in the drama of the German war' [3] The 21st Army Group, which incorporated various divisions, both armoured and infantry, played a major part in the fighting.
'We weren't based anywhere we just went forward. When the infantry went forward we went up behind with all the supplies.' (Tape 2, P.4).
Ron moved through Germany and up towards Cuxhaven (North-West Germany) where he was serving when the war ended. He continued to administer the same duties.
'Supplies up to the frontline and then Cuxhaven we stopped there and I think we were probably there a couple of weeks, just waiting you know but we had to be on the alert because there were still little pockets of resistance.' (Tape 2, P.5).
On 4th May 1954 all German forces in Holland, Dunkirk, North-West Germany, Schleswig-Holstein, Denmark, Heligoland and the Frisian Islands surrendered unconditionally. [4]