web design courses
We run occasional introductory weekend courses on web design, tutored by Jack Latimer.
These courses teach you to create a website from scratch, and cover far more than the usual HTML skills. By the end of the weekend, participants have published a home page and a web page for a local community group.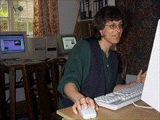 On the course, you'll learn:
basic HTML (the simple language in which Web pages are created)
how to insert text, graphics, and photos onto a web page
how to lay out web pages using tables
how to capture images for the Web (using a digital camera and a scanner)
how to edit images for the Web (using image editing software)
how to transfer the Web pages you create onto the Internet
how to use an HTML editor (a piece of software that makes writing Web pages quicker)
Send us an e-mail with your details if you would like to come on a web design course.
Courses take place at the offices of QueenSpark Books in central Brighton.
Learners on these courses create web projects hosted on this site such as:

The Inside Guide to Brighton & Hove
Culture Spots